The Wee Ones
Mom Bridgett gave birth to her second litter of 3 beautiful girls and 2 handsome boys on Feb. 22, 2014. Handsome dad was GCh. Carterhall Captain Crunch (Charlie Bear).
Feb. 22, 2014 Litter
Pedigree Here are the gorgeous puppies!
Milly
Liz Browning says,"Milly has more than surpassed every expectation we could have possibly had for her. She is the sweetest most well-behaved puppy...I really can't thank you enough for matching Milly with us. She is unbelievably smart." (Thanks Liz!)
Harry

John Hardin says, "He is absurdly sweet, but also loves to explore...Folks can't get over how handsome he is." (Thanks John!)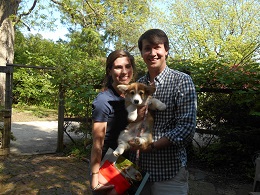 Maximus (aka Max)

Ron Bobbie says, "He's a great little fella." (Thanks Ron! We thought so too!)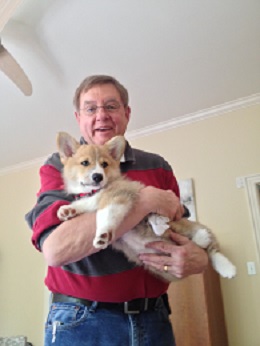 Bella
and
Charlotte
We were so excited with Bridgett's litter than we kept 2 girls! Could one be Eucanuba quality? Photos of these precious girls in Our Girls section in this website.
Mom Bridgett gave birth to her first litter with 3 gorgeous girls and 1 handsome boy on Nov. 14, 2012. Handsome dad, Ch. Honeyfox Brandy Alexander CDX RAE OA OAJ NF CGC, is a very proud dad too. We sure appreciate Ruth Barker (the owner of the sire) letting us match Bridgett with Alex!
Nov. 14, 2012 Litter
Pedigree Here are the gorgeous puppies!
HiFive Carlins Fuzzy Navel (aka Tipsy)

Ruth Barker (owner of the sire) and Sue Weredyk show off their new baby, Tipsy. Sue's hoping to show her in conformation, obedience and rally and will attempt agility. She also thinks Tipsy could get her Coursing Ability Titles. "She does like to chase things," said Sue. What a fabulous life Tipsy will have!
Hershey Kisses (aka Hershey)

Lewis, Annie and Joseph Andrews are excited about their little girl, Hershey. "We absolutely love her and wouldn't take anything for her!" said Annie.
Carlins Hot Toddy (aka Todd)

Todd is having fun at our house. We think he will make a fabulous champion. Who knows, we may do performance with him, too! His dad has accomplished an awesome lot in performance.
Carlins It's All About Me (aka Mimi)

Mimi is going to grow up with us too. We're hoping she will become a champion as well as titled in performance.