Our Boys
Carlins Hot Toddy (aka Todd)
Whelped: Nov. 14, 2012 | Pedigree
Todd is a gorgeous little boy from Bridgett's first litter with the handsome Ch. Honeyfox Brandy Alexander CDX RAE OA OAJ NF CGC. Todd is flashy with a great temperament. Sweet boy that loves to please. Let's hope he charms the judges! Pictured with Todd is an amazing handler Sharon Frampton.
GCH CH Carterhall Captain Crunch CGC (aka Charlie Bear)
Whelped: July 11, 2005 | Pedigree
Grand Championship completed with three group placements. Charlie Bear is discussed in the About Us page. He sired our first litter with amazing results. Pictured with Charlie Bear is Sharon Frampton, an amazing handler who connects fantastically with our "kids." Thank you Sharon for putting the GCH on him before the puppies were due!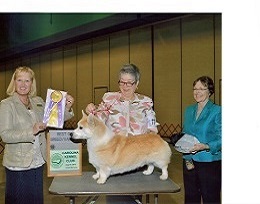 CH Dogwood Carlins Party All Knight (aka Romi)
Whelped: Nov. 16, 2007 | Pedigree
We hadn't planned on adding another boy to the family, but I kept being drawn to Romi, so he became part of our family. He's an awesome companion and loves to play. He'll even throw his toy at me and nudge me when he thinks it's time to play! And now he's a champion, thanks to extra super handling by Jane Hammett Bright! Thank you Jane!